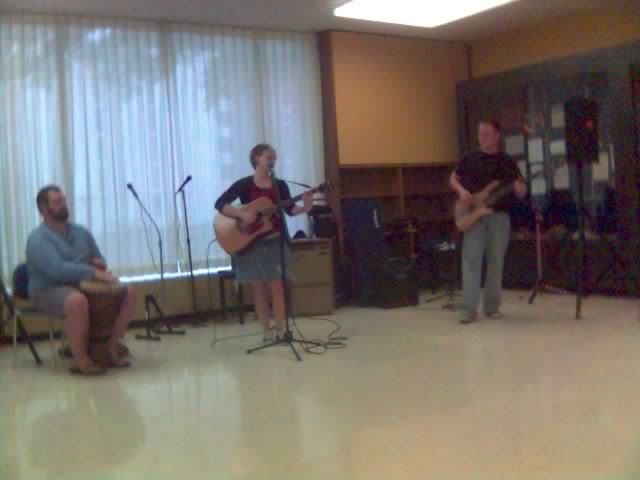 Last night the Tulsa Central library played host to two local musical acts. This was a bonus concert tied in with their long-running Tuesday Tunes series, but whereas most Tuesday Tunes performances take place over lunchtime, this was an evening show.

The first performer was Wendy Nichol (pronounced like "Nicole". It's her middle name.) She did a vocal/acoustic guitar set backed up by percussionist Josh on djembe and maraca, and another guy playing bass. Her songs were well-executed, but pretty forgettable, though I did like "This Is For All the Girls".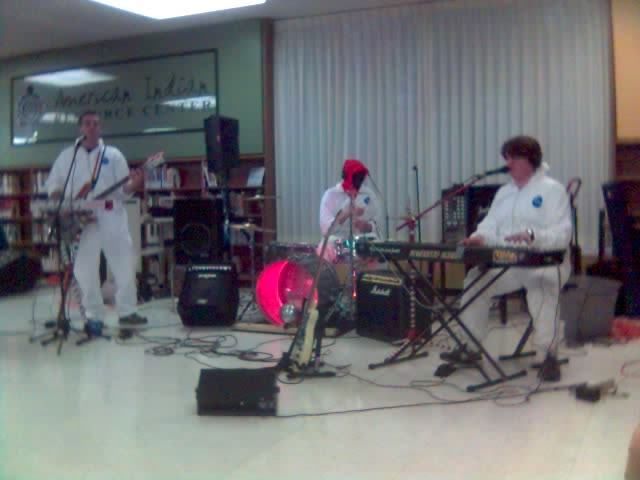 After a long set-break, GHOSTS took the stage. They are quite a different band than Wendy's little combo. They could use about half a dozen roadies to help them set up their array of equipment, but once they hit, they were great!

They came on in white Tyvek jumpsuits (the drummer with a red hood and a black cloth covering his face) to the sounds of a prerecorded intro worthy of Pink Floyd or Zeppelin. If there's anything GHOSTS lack, it ain't hubris. They played the first few tunes with Garrett on keyboard, Matt on bass, and Shane on drums. After a bit, Garrett took the bass and Matt switched to guitar. Except for one song, Garrett sang lead in an Elvis Costello croon. These guys can really play their instruments, and they are tight, at least when the electronics are working.

Stylistically, GHOSTS was all over the map, from a weepy ballad called "I'm Sorry", to the psychedelic "Sea Organ" to full-on rock anthems. Here's a video clip from one of them:


It was all, quite frankly, pretty weird, but in a very good way. They announced one song as being about "a suicidal clown working in the children's burn ward of a hospital". That's when most of the parents left, but I stayed, and both boys had a great time. In fact, here's BB rockin' out to their final number:


You can barely see LB's little hands waving "like he just don't care" from down in the stroller. They loved it!